October 7, 2019
Rebuild Awards $20.5 Million in Grants to Transform Barrett Playground and The Rivera Rec/Mann Older Adult Center
Nicetown and HACE community development corporations selected to manage Rebuild's latest playground and rec center projects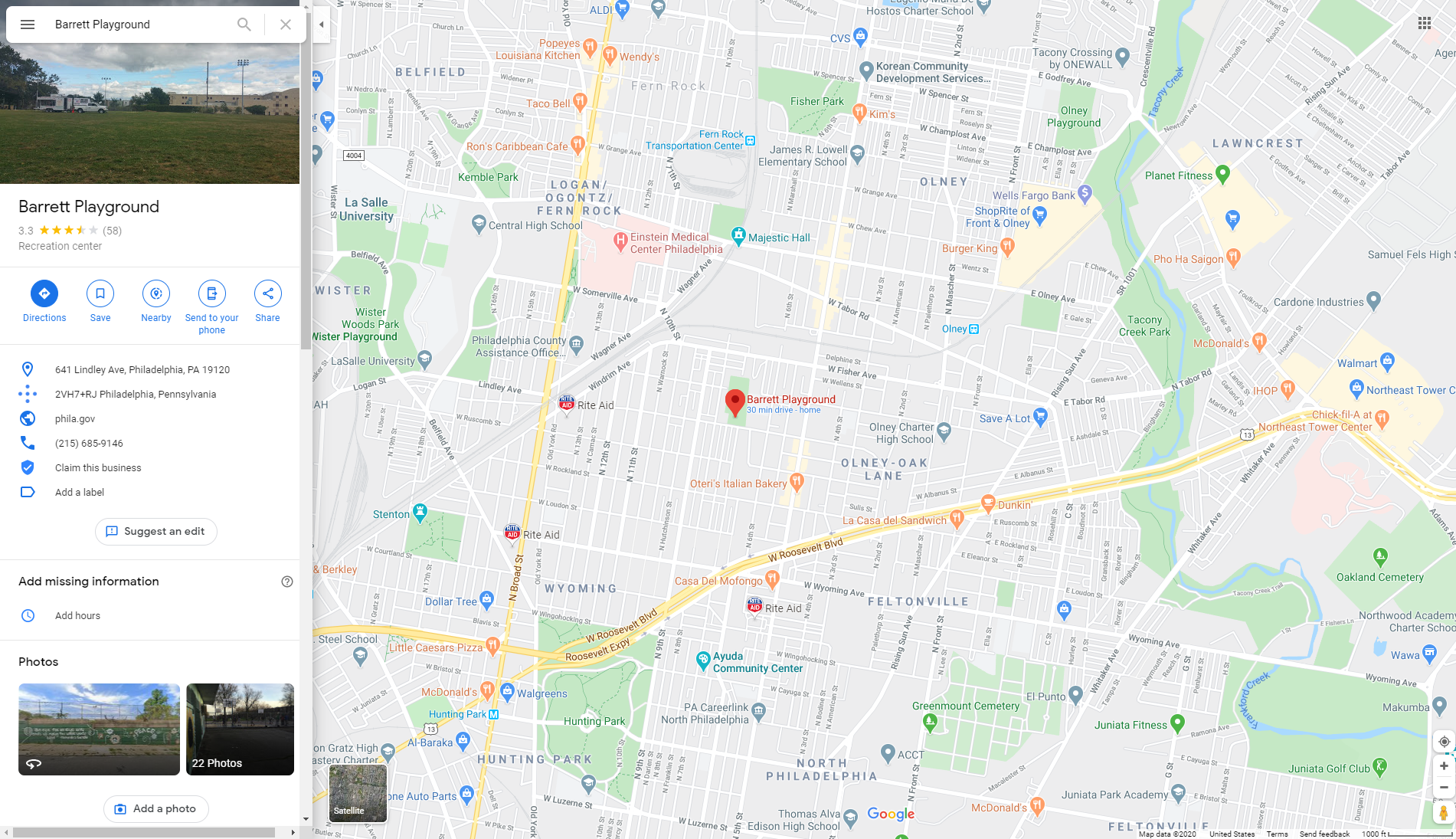 ---
Philadelphia – Rebuild Executive Director Nicole Westerman today announced the award of two multi-million dollar grants to carry out major renovations to the Barrett Playground in Logan and the Rivera Recreation Center/Mann Older Adult Center in Fairhill. Made possible by the Philadelphia Beverage Tax, Rebuild is a signature initiative of Mayor Jim Kenney's, committing hundreds of millions of dollars to improve parks, recreation centers, and libraries in neighborhoods across the City.
The Nicetown CDC will lead a $9.5 million capital project at the Barrett Playground in Council District 8.  Amongst the improvements coming to Barrett will be improved site access for disabled visitors, investments in new equipment, and significant renovations to the well-worn building.
HACE (Hispanic Association Contractor Enterprises) CDC will lead an $11 million project to restore and upgrade the aging building that is home to both the Rivera Recreation Center and Mann Older Adult Center. Designs for the long awaited renovations have been completed under an existing Parks & Recreation project, and HACE will manage construction and community involvement throughout the construction process. Renovations to the Rivera athletics fields will also be carried out as part of the HACE project.
"Rebuild is an incredible opportunity to transform Philadelphia's neighborhoods by investing in parks, recreation centers, and libraries," said Rebuild Executive Director Nicole Westerman. "Barrett Playground and Rivera Recreation Center serve as second homes to the young people in their neighborhoods, and are true hubs of their communities. We look forward to working with HACE and Nicetown CDC to deliver improvements that offer safe and welcoming places for residents to build skills, play sports, meet friends, and have fun."
The Barrett site includes an aging recreation building that has hosted summer camps, teen workshops and homework help clubs, a computer lab, and a number of youth activities throughout the years. The playground is home field to a number of youth athletics leagues. Improvements and upgrades at the site will be agreed upon using feedback and input from residents and the community.
"Barrett is home to some of the most invested mentors and staff in our parks and rec system," said Councilwoman Cindy Bass. "The volunteers and staff at Barrett give so much of themselves to the kids in the neighborhood, who deserve safe, modern facilities to learn and play. Thanks to Rebuild, the children who call Barrett a second home will get the opportunity to benefit from a high quality facility with world class programming."
The Rivera site is home to Rivera Recreation Center and the Mann Older Adult Center, and hosts a large boxing program, after school program, karate school, and high quality older adult programming. The site has been a high priority for major repairs over the last few years, but work was stalled until funding was made available through the Philadelphia Beverage Tax.
"Our residents – age 3 to 93 – benefit from the community programming offered at Rivera rec and the Mann Older Adult Center," said Councilmember Maria Quinones-Sanchez. "The work to upgrade and repair this aging facility will have a positive impact on the neighborhood and give more residents access to high quality activities and community gathering places."
Nicetown CDC and HACE CDC are two of the 20 pre-qualified non-profit organizations approved to lead Rebuild projects. The first step in the $9 million project will be extensive resident engagement, which will begin this year and will provide community members a chance to share their hopes and aspirations for the multi-use site.
"Nicetown CDC applauds Mayor Kenney and Councilmember Bass for spearheading this important project at Barrett. This site is so special because it offers neighborhood youth with so many enriching activities in a relatively modest space. From after school and mentoring programs to summer camp and long days spent out on the playground, the community relies on this space," said Zakariyya Abdur Rahman – Nicetown CDC, President and CEO.
"We are honored to have the opportunity to work alongside residents, staff, and volunteers to carry out this once-in-a-lifetime opportunity to improve facilities for residents of all ages who call this center home," said Maria N. Gonzalez, HACE President and CEO. "Rebuild is making it possible for neighborhoods like Fairhill to finally receive the much needed investment required to offer families the best possible opportunities to learn, grow, and succeed."
"Rebuild is breathing new life into some of our most cherished neighborhood rec centers, parks, and playgrounds" said Philadelphia Parks & Recreation Commissioner Kathryn Ott Lovell. "I welcome the Mayor's commitment to delivering this community the accessible, high quality recreation experience they deserve."
This spring Rebuild issued $48 million in similar grants to pre-qualified non-profit organizations to lead the transformation of the Cecil B. Moore, Olney, Vare, Heitzman, and Lawncrest Recreation Centers, as well as the Glavin Playground and the Lawncrest Library. More grant awards will be announced in the coming months.
###
Rebuilding Community Infrastructure (Rebuild) is an investment of hundreds of millions of dollars in neighborhood parks, recreation centers and libraries.? Proposed in Mayor Jim Kenney's first budget as a part of his vision for a more equitable Philadelphia, Rebuild seeks to improve pivotal community spaces, empower and engage communities, and promote economic opportunity through diversity and inclusion.? Rebuild is a public private partnership made possible by the Philadelphia Beverage Tax.
Philadelphia Parks & Recreation (PPR) advances the prosperity of the city and the progress of her people through intentional and sustained stewardship of nearly 10,200 acres of public land and waterways as well as through hundreds of safe, stimulating recreation, environmental and cultural centers. PPR promotes the well-being and growth of the city's residents by connecting them to the natural world around them, to each other and to fun, physical and social opportunities. PPR is responsible for the upkeep of historically significant Philadelphia events and specialty venues, and works collaboratively with communities and organizations in leading capital projects and the introduction of inventive programming. To learn more about Philadelphia Parks & Recreation, visit us at www.phila.gov/parksandrec, and follow @philaparkandrec on Facebook, Twitter, or Instagram.
HACE CDC is a nonprofit 501(c)(3) community development corporation founded in 1982 with a mission to build just and equitable neighborhoods for residents and small businesses of Eastern North Philadelphia. We build neighborhoods of choice by developing affordable housing and commercial spaces, providing supportive services, engaging residents and stakeholders, and supporting small businesses to grow the neighborhood's economic base and increase job opportunities to nurture the community's rich cultural diversity. For additional information on HACE, please visit the website at https://www.hacecdc.org