April 28, 2022
Taking Care of Business.

HACE Main Street Program Recognized at Pep Rally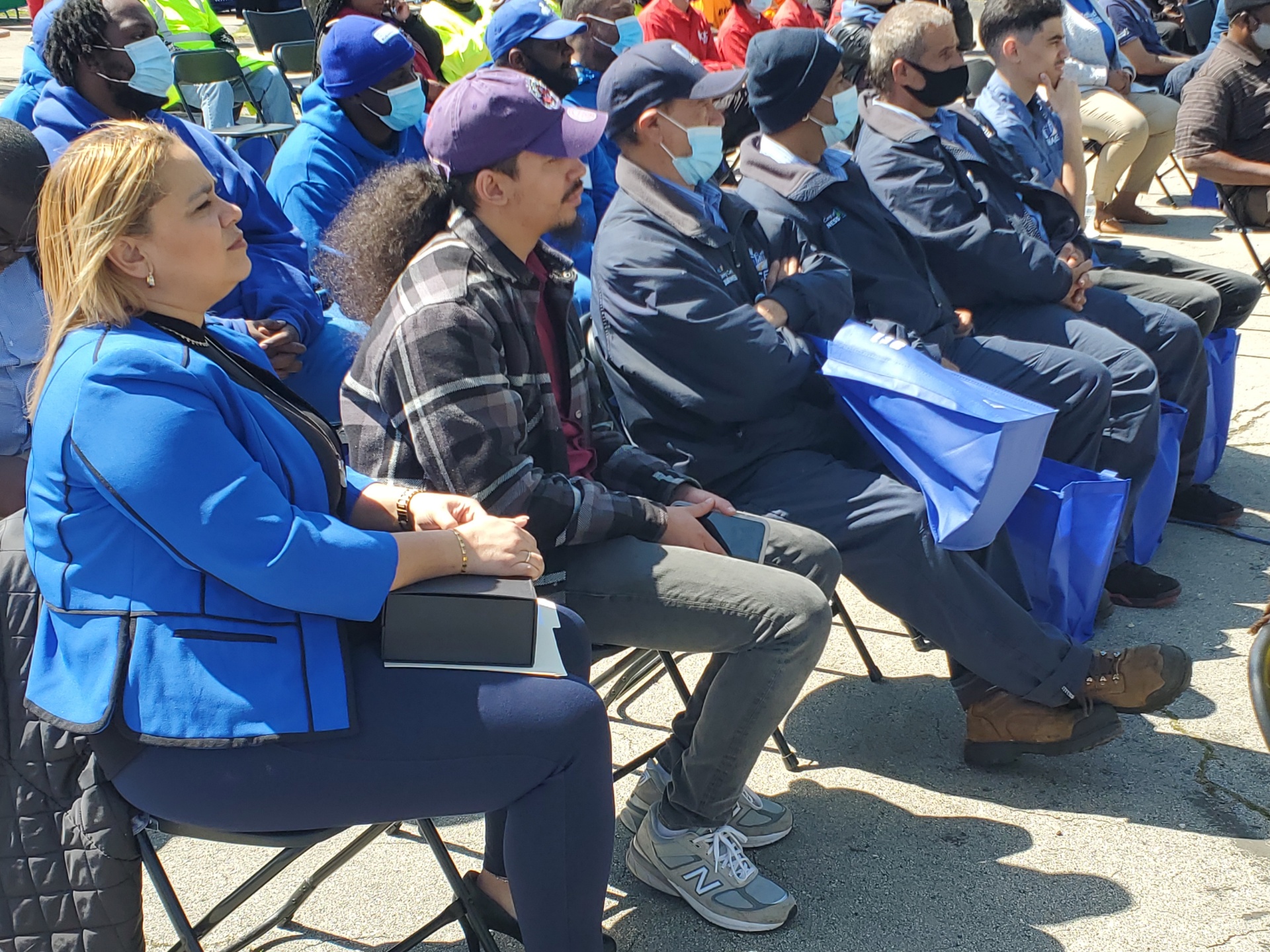 ---
Cleaning Ambassadors Continue to Take Care of Business – HACE Main Street Program Recognized at Pep Rally
On April 22 2022, HACE joined the Department of Commerce, City officials, and other community-based organizations at MLK Recreation Center for a pep rally celebrating the 200 PHL Taking Care of Business (TCB) Cleaning Ambassadors for their impressive achievements in maintaining commercial corridors citywide. TCB supports Cleaning Ambassadors at 39 community-based organizations to remove litter and address dumping on 85 commercial corridors citywide. The pep rally recognized and celebrated Cleaning Ambassadors, presenting each organization with an award for their ongoing efforts.
HACE's Main Street Program, with support from four amazing Cleaning Ambassadors (Victor Montalvo, William Serrano Gonzalez, Humberto Rosas, and Edwin Colon), manages three Commercial Corridors in North Philadelphia: Front & Allegheny, American & Lehigh, and El Centro de Oro (N 5th street). The event was extraordinarily special for Montalvo as he celebrates 10 years working as a Cleaning Ambassador with HACE. The Main Street Program honored Montalvo's continuous hard work by surprising him with a special award at the pep rally and a fantastic speech by HACE's Business District Manager, Irayma Olivencia, followed by roaring applause in appreciation for the entire cleaning crew.
In addition, Councilwoman Cherelle L. Parker of District 9 and Deputy Commerce Director, Karen Fegely, recognized the entire HACE Main Street team with the Going for the Gold Award, acknowledging their efforts in "making El Centro de Oro Business District feel like a million bucks and shine like 24 Karat Gold." HACE is extremely proud of our four Cleaning Ambassadors who work daily to keep the three corridors spotless and appreciative of Cleaning Ambassadors across Philadelphia for their hard work.
Although Cleaning Ambassadors work in small crews, they collectively removed 170,258 bags of trash, 652 bag per day on average, along pre-determined cleaning routes equating to 14,188 dumpsters of trash citywide. The positive impact of TCB Cleaning Ambassadors' efforts are evident with 95% of business owners surveyed on supported commercial corridors believing the program has been effective and 91% of consumers surveyed indicating preference for clean-kept commercial corridors. Cleaning efforts enhance economic opportunity and development not only for the businesses on corridors supported by TCB but also for the four Philadelphia-based, for-profit, minority-owned cleaning companies who staff this initiative and have had their contracts with the City increased from $221,000 in 2020 to $1.74 million in 2021.
Due to the successes of the TCB program and overwhelming appreciation of the initiative by businesses and residents alike, yet a persistent need for support in maintaining commercial corridors, the City is considering doubling the staff for each organization. HACE looks forward to continuing their partnership with TCB through their Main Street Program and welcomes the expansion of TCB Cleaning Ambassador crews!
Fun Fact: When TBC Cleaning Ambassadors from all over Philadelphia are outside cleaning, crime drops 20%!